NEW DELHI: India's
Thomas Cup
victory is one for the ages. Singles
badminton
in India has made itself a force to be reckoned with in the 21st century, but a top rung team event was never really seen as one that could be won outright. The experts don't shy away from admitting it, which is why the 2022 Thomas Cup win has been put on a pedestal. India are the men's world champions in a sense. The win over 14-time champions Indonesia set that statement in stone.
But what really changed to inspire the team to do what very few anticipated — defeating Malaysia in the quarterfinals, Denmark in the semis and Indonesia in the final?
While the doubles pair of Satwiksairaj Rankireddy and Chirag Shetty have been talked about as the story of the tournament, the foundation of that fiery attitude was laid by senior pros Kidambi Srikanth and
HS Prannoy
, who led from the front: Srikanth won all his six matches, Prannoy all his five.
Prannoy spoke to
TimesofIndia.com
about that experience in a special interview.
Why Prannoy's feat (5 wins in 5 games) has a bit more steel to it is because of the fact that he brought India back from the brink of defeat twice — once in the quarters and then in the semis. On both occasions, India won 3-2 to book a place in their maiden Thomas Cup final.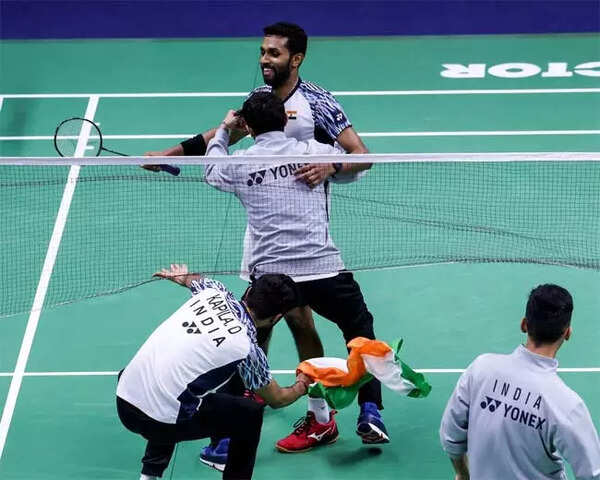 (Photo credit: Badminton Photo)
In an interview with Timesofindia.com, Prannoy lives through those highs and lows, including his slip and scare in the match against Denmark, the relief of not being required to play in the final and the disbelief of defeating Indonesia 3-0 to win the title.
Excerpts…
You are part of a world champion Indian team, but it must be a relief that you were not required to play a decisive fifth match for the third time in a row and could just watch and jump in joy after the win?
Frankly I was relieved because I didn't want to go out there and take the pressure again. It is next-level pressure. The entire country is looking up to you in a match like 2-all and getting into the decider, anything can happen. I remember telling everybody (during the final) to give me a chance to run onto the court this time. I didn't want everybody to run on me (laughs). That was really good because it's always tough to play those last matches…I was mentally ready to play the decider, but then it's a big relief that you know that you don't have to take that extra pressure and you can just enjoy that moment even better.
A 3-0 win over powerhouse Indonesia in the final was almost unbelievable. Did the players in the team feel the same way?
Yes, it was a surprise. But at the back of our minds we knew that Lakshya (Sen) was going to fire on that particular day. Somehow, we just felt that this is the day when he is going to get us that win. But I think doubles was very touch and go because we knew that Chirag-Satwik did not have a great record against Kevin (Sukamuljo, who partnered Mohammad Ahsan). That was the match that we kept at 50:50. I would say all the matches were 50:50, Srikanth vs (Jonatan) Christie also. I think the last two matches before the Thomas Cup, Christie had won against Srikanth. So when you see the record, I think everything was going 50:50.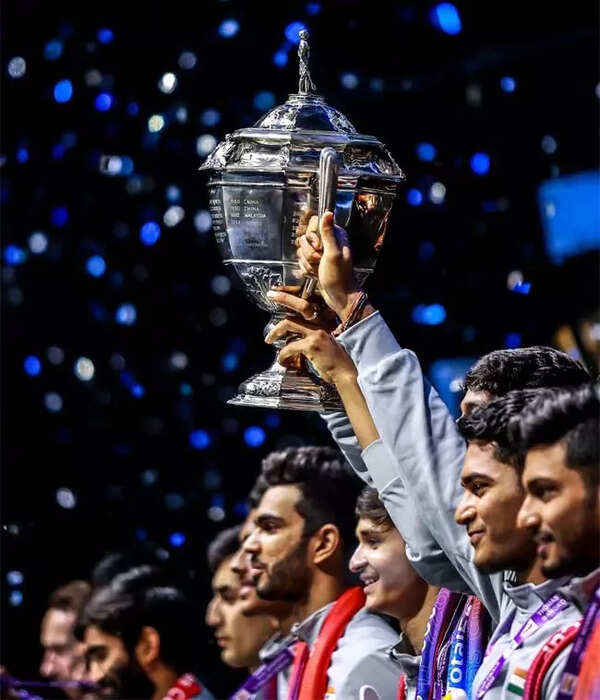 (Photo credit: HS Prannoy Twitter)
So 3-0 was very tough to even think about. We were thinking that it would come to the last match. We were keeping Lakshya at 60:40 for the first match and then doubles was 50:50. I personally knew Srikanth could pull it off because of the conditions over there and the way Srikanth was playing. I kept him at 60:40…I felt that here he might pull it off. I kept it at a 2-all score (with fifth match to decide the final) because I think the second doubles (tie) was really tough…Lakshya gave us that (winning) start and once that happened, there was a little bit of belief that this could actually go, like, 3-0.
HSP…HSP…HSP 🥳@PRANNOYHSPRI#IndiaontheRise#Badminton https://t.co/pkUpcycSvI

— BAI Media (@BAI_Media) 1653142908000
Let's go back to the Denmark semifinal, when you had an injury scare during the decider against Rasmus Gemke. Take us through what that experience was like…
Things were going really tough for me in the first game, down 4-11. That's when the slip happened. But I would say that kind of gave a lot of insights on what I can do next, what all changes I need to make because I got a good 5- to 7-minute break in between. I was just thinking what I can do differently to win this game. Yes, there was a lot of negative stuff which was coming in, because the pain was initially very bad, but then probably 10 points later, I think I started feeling a little better, a little comfortable on the movements.
I could really understand that these are the certain movements I need to be a little bit more careful about and I have to really avoid those, especially the forehand jump and deep lunge towards the forehand side was kind of uncomfortable. So I was trying to play the game in a way where…I was not really running the entire court…I think that kind of style worked against Gemke. He was not really comfortable doing that or playing that game.
Coming towards the third game, I knew that I had to start really well. I had to surprise him (Gemke) with something that he was not expecting and probably that kind of helped me at the start. I started off with good pace in the first two rallies where I went on to hit two smashes and I went on to follow it up. That kind of strategy really worked. I was looking to finish the game as soon as possible. I was trying to enjoy that momentum but tactically I was making a lot of changes in the game, again which, I think, kind of helped on that particular day.
The team had a little stutter in the group stage when India lost to Chinese Taipei. Did that loss wake you (Indian team) up in a way?
It made us a little bit disappointed, because we wanted to top the group. Getting a second-place team from the other group in the quarterfinal would increase our chances of a medal, but we eventually went on to lose against Taipei. That gave us a lot of insights on how our body language was in the entire tie against Chinese Taipei. I really felt that we didn't show that intent against Taipei. But it just changed after that. Everybody was just so fired up post the Taipei match…. From the Malaysia match (quarterfinal), the body language was probably a good 30-40% better in every player.
A team event has never been India's strong point. What did the team do differently this time in the lead up to this tournament?
I think in the previous years, we never had any conversations before going for team events or how to approach the team events. We used to just go, play and come back. I think this time, Srikanth and I took the charge because we knew it was a young squad, but one that had a lot of potential
Everyone was important to this team because if someone is not fit on a particular day, they (reserve player) need to step up and play…That is the first thing we said in the team meeting, that every single person needs to be ready if a match comes up on a particular day. You can't just be fooling around thinking that 'oh, I am not playing in this event'…You have to be ready mentally, have to be ready physically, have to prepare the day like how we do for a match. I think everybody was doing preparation on those lines.
One thing that we collectively told everyone was to be very, very cautious because this was a very long tournament, almost 10 days. First thing that we had to keep in our mind is that there will be matches in a tie where a few are going to win and a few are going to lose. You must have seen a lot of ties going 3-2. So there will be a couple of players or a couple of pairs in the team who might be mentally a little down…But the intent needs to be very clear the next day when you come back to play the next match, just can't be dwelling on what happened the previous day. These were the things we told (the juniors) as senior players. Sometimes the juniors take losses in a very bad way, they don't get back to their usual self the next day. That might be a bad signal for the team.
I think everybody responded really well, trying to get that win for the team and everybody knew their chance could come for a particular match. So all these were the small bits that we told as seniors because we knew this might happen, it actually happened also, when we had a couple of bad matches against Chinese Taipei.
Our #ThomasCup2022 champions were elated after meeting the Hon'ble Prime Minister @narendramodi Sir. We are sure hi… https://t.co/a8rjBN2oQe

— BAI Media (@BAI_Media) 1653201823000
Like in the case of Lakshya, who was trying his best but was playing against the world's top five, he was unwell as well. There were a lot of negative things happening (for him), but he made sure that there was a good positive vibe going around so that he feels 'okay, nobody is giving me pressure'. That's exactly what happened before the Indonesia final also, (everyone) said 'we know you are going to pull this off. There is no doubt'. These kinds of talks made it easy for the players to go out there and play without pressure. That's what we tried to do. That kind of helped.
You have had an up and down run since 2016, before finishing as the World Championships quarterfinalist and then getting the chance to be a part of the Thomas Cup team on experience. How have you evolved in the last 5-6 years amid all this?
I think this is something in which you evolve as a player and evolve as a human being as well, I would say. It takes time for you to accept that sport is a little bit cruel at times. You want to perform at the highest level every single day but sometimes for some people that doesn't happen because your body is your biggest opponent at times. You have to fight against ten dozen things and find answers to that in your career.
I think over the period of the last 7-8 years, this is what I have learned, that sometimes things don't come easy for you, you have to really grind for it….You just don't compare yourself with anybody else. You are unique, somebody else is unique. This is what I have done post 2017 and 2018, that I have stopped comparing myself to people around, with my friends, with my colleagues who are playing at a higher level. I am just thinking about my happiness, what I need to do so that I am happy doing this routine everyday.
I think that has changed a lot of perspectives as such. Now I am able to find that happiness again in training, trying to find new things in the training logs, trying to really explore my body as such and trying to accept whatever is coming in between, If it's an injury, I am just taking it in my stride and not really getting worried about it. That is the change that has come over the last few years, which has made me a better player also.