NEW DELHI: The Enforcement Directorate on Wednesday summoned
Congress
president
Sonia Gandhi
and her MP son
Rahul Gandhi
for questioning in a money laundering case linked to the National Herald newspaper.
While Sonia Gandhi, 75, has been asked to depose before the agency on June 8, Rahul Gandhi is understood to have been asked to appear earlier.
The case pertains to allegations of financial irregularities during the acquisition of Associated Journals Limited (AJL) — which published the newspaper — by the Gandhi-owned Young Indian Limited in 2010.
Here's a quick recap about the case and the key players involved …
What is AJL?
The Associated Journals Limited (AJL) was the publisher of National Herald, a newspaper launched by former Prime Minister Jawahar Lal Nehru in the late 1930s.
Besides Nehru, over 5,000 other freedom fighters were stakeholders of the AJL. However, the number of stakeholders came down to about 1,000 by 2010.
AJL's registered office was at ITO in New Delhi.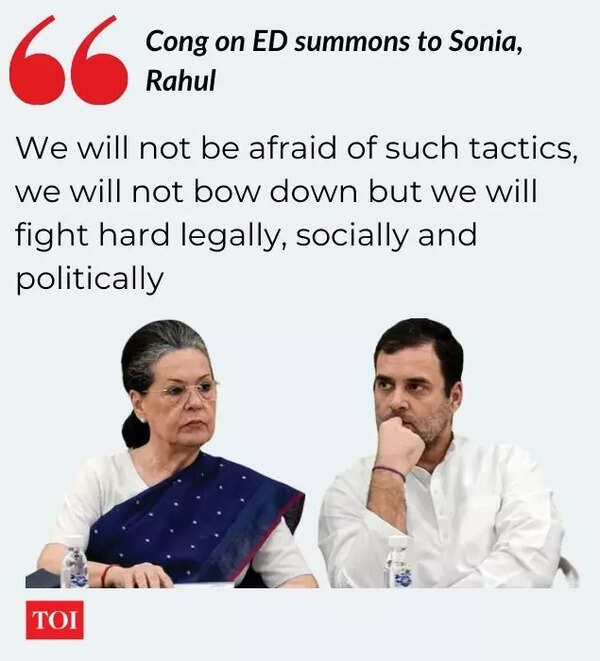 What is Young Indian Ltd?
Young Indian Ltd (YIL) is a private company that was set up in November 2010.
Congress president Sonia Gandhi and her son Rahul Gandhi together hold a majority share of 76 per cent in the company while the remaining 24 per cent was held by party leaders Motilal Vora and Oscar Fernandes.
How Congress got involved?
After suffering heavy losses over the years, the National Herald newspaper became defunct and suspended operations in 2008. Notably, it is estimated that National Herald had properties in Delhi, Lucknow and Mumbai worth over Rs 2,000 crore.
The Congress made a proposal to revive the newspaper as it was deeply entrenched in the Indian freedom movement. For this, Congress extended a Rs 90 crore interest-free loan from the party fund.
In 2010, the Congress assigned the AJL debt to its newly-founded YIL. Since AJL was unable to repay the loan, its entire shareholding was transferred to the Gandhi-owned YIL for a sum of Rs 50 lakh.
This is when the deal turned controversial.
A complaint filed by BJP MP Subramanian Swamy in 2013 questioned how the Congress took over a company (AJL) with over a 1,000 shareholders and prime real estate worth over Rs 2,000 crore at just Rs 50 lakh.
Swamy accused Sonia, Rahul and others of committing fraud by obtaining the right to recover Rs 90.25 crore debt that AJL originally owed to the Congress.
Besides the Gandhis, Motilal Vora, Oscar Fernandes, Suman Dubey and Sam Pitroda are among the accused in the case.
He also questioned how Congress gave money to AJL from the party fund since it is illegal for political parties to lend money for commercial purposes. In retaliation, the Congress had said it did not gain commercially from extending loan to AJL.
In 2015, senior lawyer Shanti Bhushan claimed that his father Vishwamitra owned shares in AJL and the decision to transfer the ownership to Young Indian was taken without the consent of the shareholders.
The case
In 2014, Metropolitan Magistrate Gomati Manocha summoned all the accused in the case, including the Gandhis.
The magistrate said that the complainant had established a prima facie case against the accused under Section 403 (Dishonest Misappropriation of Property), Section 406 (Criminal Breach of Trust) and Section 420 (Cheating) read with Section 120B (Criminal Conspiracy) of the Indian Penal Code (IPC).
In 2014, ED launched the probe to find out if there was any money laundering.
In 2015, the Patiala house court granted bail to Sonia and Rahul Gandhi in the case.
In February 2016, the Supreme Court refused to quash proceedings against the accused.
Then, in 2019, ED attached National Herald properties worth Rs 16.38 crore in Mumbai.
Currently, the ED is carrying on with its probe to understand the share holding pattern, financial transactions and role of the promoters of Young Indian and AJL.
The agency has also registered a fresh case under the criminal provisions of the PMLA after a trial court took cognisance of an Income Tax Department probe against Young Indian Pvt Ltd on the basis of Swamy's complaint.
Now, it has issued summons to Sonia and Rahul Gandhi.
(With inputs from agencies)