NEW DELHI: The Enforcement Directorate has summoned
Congress
president
Sonia Gandhi
and her son
Rahul
for questioning next week in a money laundering case registered against
Young Indian
, which owns Associated Journals Ltd (AJL) and its properties worth over Rs 800 crore (market value as estimated by ED).
Sonia and her two children — Rahul and Priyanka — are majority shareholders in Young Indian, which was incorporated by them along with Sam Pitroda and Suman Dubey in November 2010.
While
Sonia
Gandhi has been asked to appear for questioning on June 8, her son Rahul has sought deferment since he has been travelling overseas.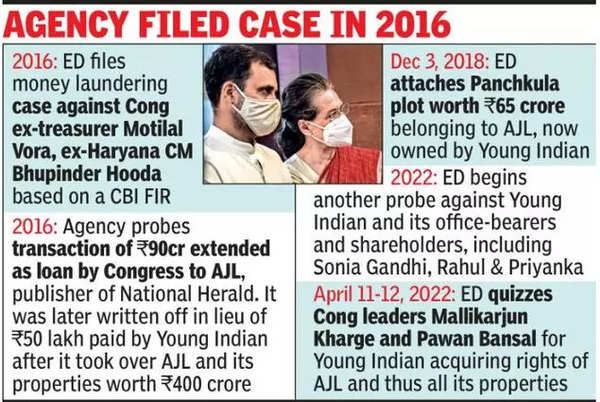 The development marks a crucial phase in the investigation into the allegation of Gandhis turning Associated Journals — which used to bring out National Herald and other Congress mouthpieces — into their family entity in violation of income tax laws and by using dubious money laundered through shell companies.
Sources said the ED will record statements of Sonia and Rahul on the alleged money trail mapped by the agency and the I-T department, especially how they "took over commercial properties worth Rs 800 crore through Young Indian, which had a share capital of just Rs 5 lakh".
The case relates to Young India taking over 99% shareholding of AJL and all its properties across major cities in India within three months of being incorporated. The ED's investigation is based on an I-T case and a subsequent order of the Delhi high court validating the charges of the I-T department against the Gandhis and their family friends.
The I-T department, in its assessment order placed before the Delhi HC, had claimed that Young Indian had taken "hawala entry of Rs 1 crore from a shell company of Kolkata". Besides these charges, the ED is also probing how the entire "process of takeover of the commercial property of AJL was completed within three months from the date of incorporation of YI without paying any taxes and stamp duty".
The I-T department has already taken action against Young Indian. It withdrew the tax exemption of Young Indian, cancelling its charitable status, and raised a tax demand of Rs 249.15 crore on the company and its shareholders, including the Gandhis, for "benefiting from the acquisition of Rs 414.4 crore properties through AJL".
The ED is also probing an alleged "fake" loan extended by Congress to AJL for Rs 90 crore. Sources claim that the purported loan was actually never given to AJL, and was merely a "book entry" which was written off when Young Indian acquired AJL.
"The scheme has included a fraudulent transaction involving purchase of a non-existent loan of Rs 90.21 crore by the AICC (All India Congress Committee) to AJL for a paltry sum of Rs 50 lakh by the assessee company (Young Indian)," the I-T department had said in its assessment order against Young Indian before slapping a tax of Rs 249 crore.
The I-T assessment order on Young Indian has accused Sonia, Rahul, former Congress treasurer Motilal Vora and late Union minister and family loyalist Oscar Fernandes of having "devised the scheme involving pre-ordinate artificial and fraudulent steps to take over AJL".
The ED is probing the role of senior Congress functionaries named accused in the I-T order. "The non-existent loan was actually a book entry chosen in such a manner as it would lead to allotment of 9.021 crore shares of AJL (99% of total shares) to the assessee (Young India) in order to take over AJL," it said.
It has also alleged that "in order to arrange funds to buy a non-existent loan of Rs 90.21 crore, the assessee company (YI) had taken accommodation entries of Rs 1 crore from a hawala entry operator located in Kolkata".