MUMBAI: The state reported over 1,000 Covid-19 cases (1,045, to be precise) and the city over 700 (704) for the second day in a row on Thursday, prompting chief minister Uddhav Thackeray to call for use of masks and a step-up in voluntary vaccinations.
The CM chaired a meeting of senior officials and the taskforce tackling the pandemic in the wake of the surge. He said the government will closely monitor Covid-19 numbers for the next 15 days before deciding if curbs have to be reintroduced. "Covid is raising its head once again.
If Covid curbs have to be avoided citizens must follow norms like wearing masks and taking vaccination voluntarily," said Thackeray.
Covid: Latest surge includes first fatality after 17 days in Mumbai
Chief Minister Uddhav Thackeray said as per suggestions made by experts it is likely that Covid cases will increase further in the next few days. The state had done away with Covid-related curbs, including compulsory wearing of masks in April.
The latest surge includes a fatality in Mumbai after 17 days of zero deaths. The sole death recorded in Mumbai and the state was of a woman below age 40.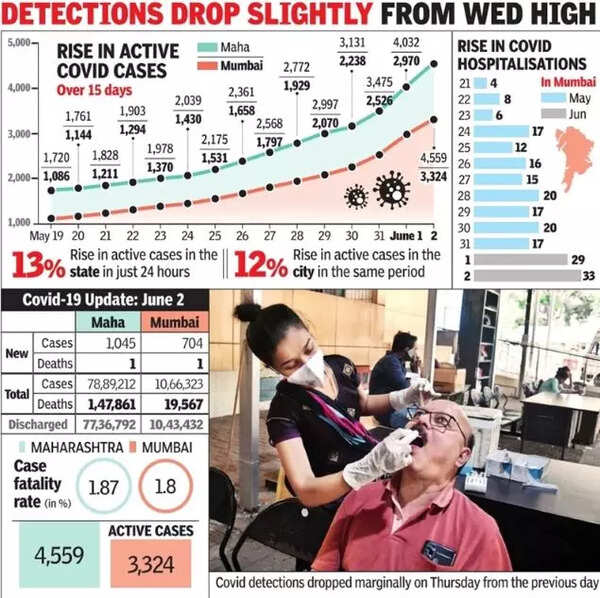 Health secretary Dr Pradeep Vyas said active cases in the state has gone up seven times in the last 1. 5 months. There were 626 active cases on 16 April and the figure touched 4,500 on Thursday.
An analysis shows that 97% of new cases are being reported from Mumbai and surrounding urban centres like Thane, Navi Mumbai and Pune. The largest share is from Mumbai where the positivity rate is 6%, double the state's average.
Active cases in the state (4,559), as well as the city (3,324), have jumped by 13% overnight, prompting experts to call for heightened surveillance and increased genome sequencing to track variants.
Earlier in the day, Ajit Pawar had said the surge in Maharashtra may prompt the public health department to take a decision on making masks mandatory. With schools re-opening and vaccine coverage among children low in Mumbai, Thackeray has asked the administration to look at protocols being followed across the world in similar circumstances.
"CM has asked the department to see whether the rise in cases is among the younger lot and consider steps to ensure schools are made more safe. He has also expressed concern over low vaccination among the younger generation and said steps must be taken to increase coverage," said an official.
Thackeray has directed the administration to ensure field hospitals in the state are kept ready. He said a structural audit of these hospitals must be done. He also said testing had dropped and with the monsoon season around the corner, it has to be ramped up to ensure that cases of fever and cold which will increase do not go undetected.
"The rate of hospitalisation has not gone up significantly, but cases are on the rise and so people must not drop their guard. There is no need for imposing restrictions if people co-operate and use masks voluntarily," said an official.
Dr Shashank Joshi, a member of the state Covid task force, said the Mumbai and the Pune metropolitan regions are witnessing a "silent wave" of mild infections which is driving the surge in Maharashtra. "It is, therefore, essential to wear a mask in indoor spaces, including at hospitals, movie theatres, malls, transport hubs, etc," he said.