With
Team India
's big guns being rested often, coach
Rahul Dravid
doesn't want to cast his net too wide in run-up to Twenty20 World Cup
NEW DELHI: In seven months as Team India's head coach,
Rahul
Dravid has made it clear that he prefers consistency in selection. Though the IPL has thrown up a wide range of options and probable combinations,
Dravid
is not one to fall into the trap and make knee jerk changes to his plans. He has already made it clear that he is against casting his net too wide in the run-up to the T20 World Cup later in the year.
During the IPL, he has been quietly observing the talent coming through and the performances of his first-choice players. Back in charge of the Indian team barely a week after the IPL, Dravid is holding his ground and is against making sweeping statements on players. After all, he has been synonymous with the word "process" for a long time. Under the scorching sun at Ferozeshah Kotla on Tuesday, with the bulk of India's marquee players being rested for the T20I series against South Africa, Dravid is steadfastly sticking to this "process".
We have a challenge ahead of us against a strong South African side: #TeamIndia Head Coach Rahul Dravid 💪#INDvSA… https://t.co/SkZWDV2N3B

— BCCI (@BCCI) 1654619511000
Hardik put through the grind
Hardik Pandya, fresh from a triumphant return to competitive cricket as Gujarat Titans captain, was made to slog it out with his bowling on the main square for nearly 45 minutes before he could move to the nets for a hit with the bat. For all his exploits with the ball in the IPL, he still has to prove to the team management that he is ready to bowl at full tilt.
"At this point, it is a positive that Hardik has started bowling again. It is really about ensuring that we can get the best out of him as a cricketer in terms of contributions," was all Dravid said about Hardik two days ahead of the first T20I here.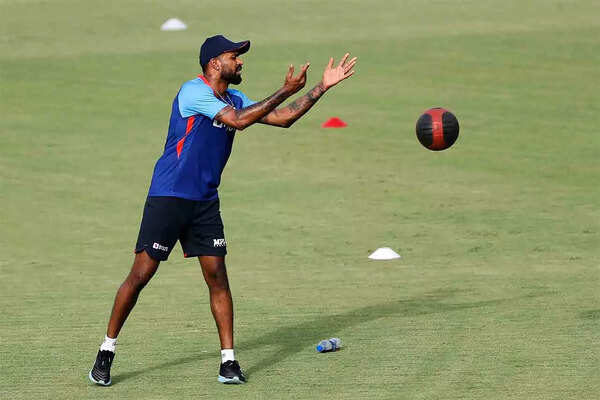 Hardik Pandya during a practice session at the Kotla on Tuesday. (AFP Photo)
Young sensations Umran Malik and Arshdeep Singh too toiled away in the nets. But Dravid was not going to raise their hopes either. "We just have to see how much playing time we will be able to give Umran. We have a big squad, not possible to have everyone in the playing XI," Dravid said.

"I am someone who likes consistency and to give people time to settle in. Arshdeep has also done well. He is also an exciting player who bowls well. We have a little bit of experience in Harshal Patel, Bhuvneshwar and Avesh Khan, who played in the last series. It is exciting to have the young guys as well, it helps us broaden our pool and see what they can do," he said.
#TeamIndia Head Coach, Rahul Dravid is excited to have someone of @hardikpandya7's quality in the side. 👍 👍… https://t.co/x9CUL9kbva

— BCCI (@BCCI) 1654618469000
Working without all-format captain
Dravid's quest to maintain consistency in selection is hampered by a cramped schedule which forces frequent rotation of players. Rohit Sharma, for example, has sat out of every second series since taking up the captaincy in all formats. With the T20 World Cup barely five months away, Dravid will have very few opportunities to play his strongest XI in the lead up. But he is finding a way to work around it.
"KL Rahul has captained before and we are clear on a lot of things and we keep talking. Rohit is an all-format player and it is unrealistic to expect all (all-format players) to be available for every series," he said.
"We need to ensure that they are fit for all the big tournaments and are peaking then. We also have the Test match in the UK spilling from last year and we need to ensure we have the best side," Dravid explained.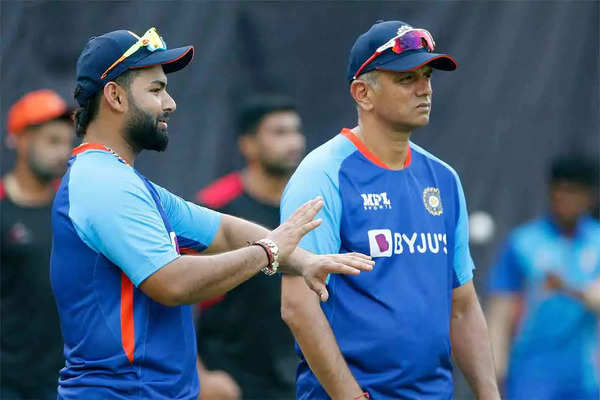 Rishabh Pant speaks with Rahul Dravid during a practice session at the Kotla on Tuesday. (AFP Photo)
Backing senior batters
The IPL also triggered raging debates about India's top three batters' efficiency in the shortest format of the game. Rohit Sharma and Virat Kohli, in particular, have done very little to inspire, while KL Rahul's strike-rate has drawn criticism.
"We know our top-three is quality. They are top class. There will be a slightly different top three in this series but what we are looking for (in general) is a positive start and playing according to the situation," a curt Dravid said.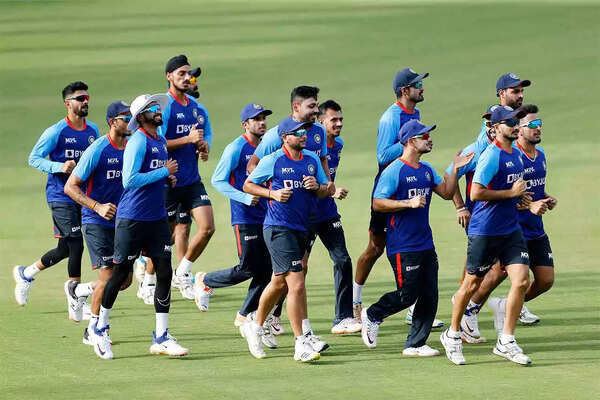 Indian cricketers during a practice session at the Kotla on Tuesday. (AFP Photo)
"In general, in T20 you want people to play positively and these people do that. As I said their roles might be slightly different to what we expect of them. We will be giving them a lot of clarity as to what their roles are. And I'm confident anyone in the top three will be able to play the role according to the situation of the match," he added.
There's not much time before the T20 World Cup but there's plenty of cricket till then. Dravid is torn between resting them and playing a full-strength team consistently. As of now, in Dravid's words, the plan is to keep rotating a set of players.
M. O. O. D in the camp ahead of the #INDvSA T20I series. ☺️ 👌#TeamIndia | @Paytm https://t.co/ZMB1XEvU7I

— BCCI (@BCCI) 1654585383000