AGRA: Amid the Kanpur violence over anti-Prophet statements by two senior
BJP
leaders and widespread furore across the globe, UP chief minister
Yogi Adityanath
on Tuesday visited the shrine of a Muslim devotee of lord
Krishna
Syed Ibrahim Khan — known by his pen name
Raskhan
— in Mathura.
During his visit,
Yogi
said, "Bhakti jati-pati nahi dekhti" (there is no caste nor religion in devotion). After offering flowers at the samadhi, the CM directed officials concerned to organise weekly cultural programmes at the samadhi to attract more visitors.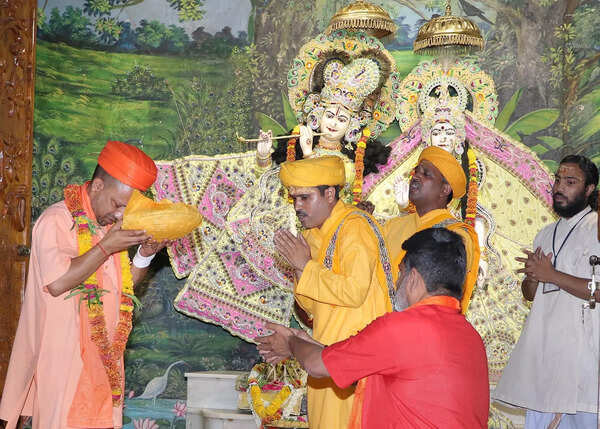 Mathura: Uttar Pradesh CM Yogi Adityanath offers prayers at Sri Krishna Janmasthan Temple, in Mathura. (PTI Photo)(
In the visitors' diary at the samadhi of Raskhan, an Indian Sufi poet, Yogi praised the initiative of Braj Vikas Parishad to renovate and beautify the samadhis of lord Krishna's Muslim devotees — Raskhan and Taj Bibi (wife of Mughal emperor Akbar).
Raskhan is a widely acknowledged poet, having dedicated most of his creations to lord Krishna. In his early years, he became a follower of lord Krishna, learned bhakti yoga and began living in Vrindavan, where he spent the rest of his life. He accepted lord Krishna as the supreme god and became a vaishnava.
During his two-day visit to Mathura and Vrindavan, the CM offered prayers at Banke Bihari temple in Vrindavan and Krishna Janmasthan temple in Mathura. He also directed the officials to work towards emancipation of women of widow ashrams by connecting them to various government schemes.